Thoughts on the FL "Parental Rights in Education" bill, aka "Don't Say Gay"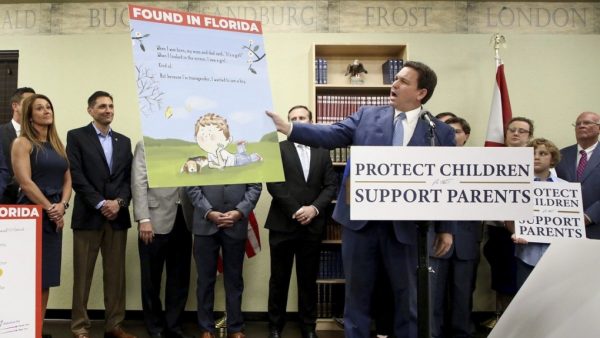 By now you've very likely heard about the "Don't Say Gay" bill in Florida. There are staunch advocates of the bill, but there are just as many, if not more, staunch opponents of the bill. Chances are you've heard a lot from people on either side, but have you heard what the bill is actually about?
Florida House Bill 1557, "Parental Rights in Education," is a bill aimed at giving parents more rights with regards to what their students may encounter in a public school classroom. The extent of the bill's power is preventing the discussion of any material regarding sexual orientation in kindergarten through 3rd grade classrooms. After 3rd grade, these materials and conversations are allowed to happen as long as they are "age-appropriate and developmentally appropriate," although the language does not define those parameters further.
Under HB 1557, parents in Florida may sue a school or school district if a teacher violates these parameters. An earlier version of the bill had language that would have required school staff to inform parents if a student provided them with information that they may identify as any sexuality other than "straight." This language was removed for the current version of the bill.
The main reason for all the attention to the Florida bill is two-fold: the language and parameters of the original bill and the possible domino-effect this could have across the country. In response to the Florida bill, a Kansas bill is working to make it a misdemeanor charge for teachers to use any material that depicts homosexuality in any way. In Tennessee, a bill would prohibit schools from teaching or keeping on-campus any book that even mentions "gay, bisexual, or transgender issues or lifestyles."
You might be asking yourself where all of this falls within the context of free speech, and that's an even trickier part of the issue. Teachers are already highly limited in what they discuss within a public school classroom as outlined by their curriculum. In some states, Arizona soon-to-be-included, schools must post their class curricula online a year in advance, so parents can look over covered topics and opt their students out of material they deem improper. Putting a limit on top of an existing limit could possibly create a violation of the First Amendment. Additionally, the HB 1557 limits are only specific to teachers - not students. Students could choose to have these conversations anyway, and, so long as the teacher stays out of them, there is no legal violation. In fact, a teacher could be sued for infringing upon the rights of a student's free speech by stopping the conversation. At the end of the day, HB 1557 puts an emphasis on conversations that were likely, prior to the bill's introduction, non-issues. By making a mountain out of a molehill, Florida has opened itself up to a possible litany of lawsuits, court challenges, and potential for additional case-law that could undo a lot of what HB 1557 aimed to do in the first place.
Hopefully now you feel as though you're as neutrally up-to-speed as you can be on a real political and legal hot topic. What comes of HB 1557 remains to be seen, but it will definitely be interesting to watch the way in which the legal system responds. On that note, if the legal system is waiting on response from you for any reason, call us here at Palestini Law, where we'll put our legal expertise to the test on your behalf, whenever you might need it.
Originally from Toronto, Canada, James Palestini relocated to Arizona where he received his Bachelor of Science in Criminal Justice Studies with a minor in Criminology from Arizona State University. James then attended law school at Phoenix School of Law where he earned a Juris Doctorate degree. While pursuing his doctorate, James interned at a criminal defense firm in Scottsdale, Arizona. James handled a multitude of criminal cases there, including felony, misdemeanor and criminal traffic matters.