Filming the Police in Arizona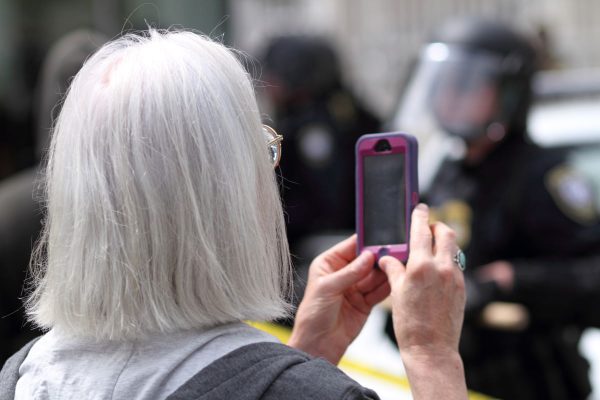 With the end of his last legislative session, Doug Ducey signed off on over 100 bills that will prove to provide sweeping changes for Arizona's legal landscape in the years to come. However, a couple of bills with direct changes to how the public can interact with the police in the state have made both local and national headlines. However, media bias can create a mountain out of a molehill, so we're here today to set the record straight on what Ducey's latest moves mean for you and your rights with regard to recording the police.
HB 2319 increases the distance allowed between "law enforcement activity" and an active recorder of the situation on public property to 8 feet. By definition, "law enforcement activity" in HB 2319 includes "questioning a suspicious person," "conducting an arrest, issuing a summons, or enforcing the law," and/or "handling an emotionally disturbed or disorderly person… exhibiting abnormal behavior." The language here is left gray intentionally to cover the full gamut of police activity: any officer on-duty can technically be participating in "enforcing the law."
HB 2319 also includes new parameters for recording the police on private property. Anyone on private property who has the permission to be on the property may make a video from closer than 8 feet as long as they are in "an adjacent room or area," and as long as the officers involved don't provide a warning to anyone recording to stop. Remember that old urban legend that all you had to do was tell a gathering crowd "I'm defending myself" before assaulting someone and you were in the legal clear? That's essentially what HB 2319 does.
HB 2319 doesn't make a mountain out of a molehill - actually the opposite. In an America where the murder of George Floyd would have likely been dismissed as routine police contact and behavior had it not been for one very high-definition, very close cellphone video recording, a move like HB 2319 seeks to send society back to a video dark-ages. The number of cases that have been turned on cellphone video or audio recording in this country is likely uncountable and, until this coming September, that right has always existed to you. In Arizona, however, lawmakers are seeking to make that a relic of the past. While it's true that cellphone camera technology only increases year over year, the fact remains that no one asks a friend to take an Instagram photo of them from 8 feet out for a reason - you want to see all the details of a picture as closely as you can!
Whether HB 2319 will hold up to a legal challenge is anyone's guess. The ACLU has already hinted that they will be looking into legal options for challenging the bill on the grounds that it interferes with the First Amendment right to freedom of assembly and freedom of press, that the distance limit could have a significant impact on Constitutionally-protected rights that provide the general public with the tools necessary to collect evidence in a situation which otherwise might seek to punish them. As it stands, HB 2319 will become law in September and will be punishable by a Class 3 Misdemeanor, the least-serious misdemeanor charge in the state but one still punishable by a $500 fine, 30 days jail, and/or 1 year probation.
Here at Palestini Law, we believe in your right to a fair trial, and part of a fair trial is evidence. If HB 2319 impacts your ability to collect the evidence necessary to defend your case, you can rest assured that we will be here to take your call and explore your legal options. Just because HB 2319 is shortsighted doesn't mean your defense has to be, too.
Originally from Toronto, Canada, James Palestini relocated to Arizona where he received his Bachelor of Science in Criminal Justice Studies with a minor in Criminology from Arizona State University. James then attended law school at Phoenix School of Law where he earned a Juris Doctorate degree. While pursuing his doctorate, James interned at a criminal defense firm in Scottsdale, Arizona. James handled a multitude of criminal cases there, including felony, misdemeanor and criminal traffic matters.