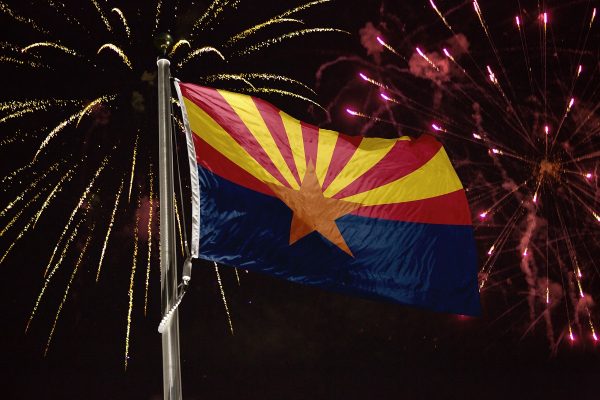 Ah, Independence Day, a day for celebrating America in the best possible ways: grilling out, relaxing in the pool, and setting off fireworks. While there are really no laws governing your celebration with the first two, there are definitely laws dictating how, when, and where you can use the last one. But before you say "c'mon, I thought this was America!" let's walk you through the freedom you have to ring in a very happy 247th birthday to good ol' USA.
In Arizona, the only permissible fireworks that you can possess as an average consumer are ground fireworks and hand-held sparklers. A "ground firework" is as the name states: any fountain, ground spinner, or spark-emitting firework device that does not leave the ground. These fireworks are legal for use two times of the year -from June 24th through July 6th and from December 24th though January 3rd. Additionally, these must be used on private property and should only be used by responsible adults.
But let's say you decided that ground fireworks and sparklers weren't enough to honor America. Maybe you went across state lines and found yourself something that reminded you a little more of a screaming bald eagle. Well, your fate varies depending on where you decide to let that firework fly. Anyone caught using an illegal aerial firework in Phoenix, Chandler, Gilbert, Avondale, or Tempe faces a $1,000 fine per firework launched. In Glendale, you're looking at a $1,500 fine the first time, then a $2,000 fine the next. Scottsdale sets a minimum fine at $275.
While these fines may not be enough to deter you, the threat of damages caused by those fireworks should be. Remember, Arizona is a desert, and we've already entered wildfire season. If part of your July 4th celebration causes any kind of fire, you're going to find yourself on the hook for damages, not to mention felony arson charges.
July 4th is all about letting freedom ring, but it shouldn't be the day you lose yours - financially or otherwise! If ground fireworks and sparklers aren't enough for you, many cities are bringing back their July 4th shows this year, so check your local news outlet for more information! However, should you find yourself on the wrong side of the law this weekend, give us a call here at Palestini Law, and we'll look to make like the revolutionary army and set you free.
Originally from Toronto, Canada, James Palestini relocated to Arizona where he received his Bachelor of Science in Criminal Justice Studies with a minor in Criminology from Arizona State University. James then attended law school at Phoenix School of Law where he earned a Juris Doctorate degree. While pursuing his doctorate, James interned at a criminal defense firm in Scottsdale, Arizona. James handled a multitude of criminal cases there, including felony, misdemeanor and criminal traffic matters.